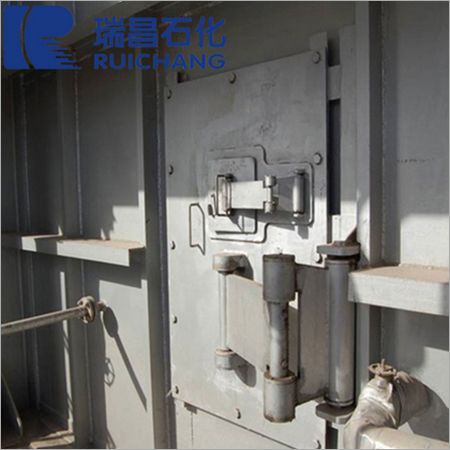 Product Description
Manhole door applied in radiation chamber, convection chamber, and funnel etc. of petrol chemical and other industrial furnace. It provides convenient access for equipment operation and maintaining staff to get in and out the internal parts of equipment to carry out commencement and shutdown inspection as well as normal maintenance etc. Symmetrical structure is applied, so the quantity of the manhole is usually 8, 10, 12, etc.
The advantages of Low Heat Dissipation Manhole Door developed by RC are listed below:
1. Energy Conservation
Since the ceramic fiber module adopted by peep door has advantages such as low thermal conductivity coefficient and outstanding thermal insulation performance, ceramic fiber module of peep door can be made the same thickness as lining of heater, even a little bit thicker. Therefore, the surface temperature of peep door can be maintained below 60℃ (30℃ higher than ambient temperature), which is 120℃ lower than the surface temperature of existing peep door. In that case, thermal loss can be effectively prevented and thermal efficiency can be improved as well.
2. Tight Sealing
As the shape of ceramic fiber module on peep door is cone frustum, flexible ceramic fiber gasket embedded in the module can help to enhance the tightness of inner wall of peep door. With multi degree of freedom link mechanism, optimal position can be adjusted to ensure tight sealing during shutdown. Since partial heater furnace is negative pressure or micro negative pressure, with tight sealing, air leakage can be avoided, air factor can be reduced, and oxygen level of fumes in hearth can be lowered down, so that NOx can be reduced to achieve energy conservation and environmental protection.
3. Safe Operation
Since the peep door adopts multi degree of freedom link mechanism, when open the peep door, the operator can pull the peep door outward for a certain distance first, and then turn it over, in this case instantaneous heat wave can be prevented. Also, suitable position can be chosen under the multi degree of freedom link mechanism to observe the situation inside the furnace.
4. Broad Vision
As ceramic fiber module of peep door can be made the same thickness as lining of heater, even a little bit thicker, so partial overheat phenomenon on lining cannot happen. Therefore, the hole size of peep door is unrestricted and also the size of peep door can be enlarged to meet customers' requirement for observation.
5. Online Installation: if peep door need to be replaced during operation of heater, axis, axie sleeve and bearings can be opened to replace at the fixed spindle of peep door at original basis.
Contact Us
No. 8, Yanguang Road, High-tech Development Zone, Luoyang, Henan, 471003, China
Phone :86-379-65112356